Discover a unique blend of rustic charm and sleek sophistication at the historic Glen Tavern Inn in Ventura County, California. Built in the days of grand hotels, the Tudor-Craftsman style-landmark in Santa Paula, California offers guests an ambiance both cozy and tony. Whether you seek a romantic or family getaway, or just peace and quiet, we invite you to make it your destination.
Set in the Old Town District of Santa Paula the Inn is walking distance to numerous local shops and attractions, and minutes to the Santa Paula Airport. The quaint City of Santa Paula, California, in Ventura County is located 12 miles from Ventura beaches and a short ride to the Ojai Valley in Santa Barbara.


Santa Paula Sanctuary
.
Unwind in one of our Jacuzzi rooms, lounge in the plush and welcoming lobby, or explore the outdoor splendors of the surrounding Santa Clara Valley. Either way, we guarantee you will forget your hectic work week at the Glen Tavern Inn.
Southern California Retreat.
Although just an hour from Los Angeles, Santa Paula retains a small-town, rural character. Known as "The Citrus Capital of the World," the town is embraced by the orchards carpeting the floor of the Santa Clara Valley. Famous for its hospitable climate, the town is situated near the western mouth of the Valley where it enjoys direct ocean breezes without ocean fog, and balmy smog-free air that feels latitudes away from the heat that often prevails just a few miles deeper inland. Hence the town is said to enjoy "Goldilocks weather" that is "juuust right."
Meet in Southern California.
The casual luxury and boutique charm of the Glen Tavern Inn make us an ideal Southern California venue for your special events, weddings and corporate retreats.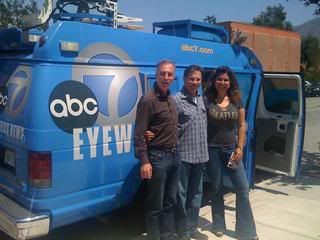 Glen Tavern owners Tom and Rosanna Jennett pose for a photo with Eyewitness 7 News reporter Ric Romero. The Glen Tavern Inn was featured in a segment on channel 7 news for great places to travel to outside of Los Angeles.